Since Time Immemorial Grantmakers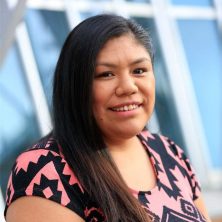 Jaylyn Suppah (She/her)
| Board Member/Since Time Immemorial Fund Grantmaker
Warm Springs
Jaylyn is a mother, educator, advocate for social justice and a member of the Confederated Tribe of Warm Springs (CTWS). She was raised in Simnasho, Oregon and is a traditional food gatherer for her Tribe. She is a mother of two beautiful children. Her Indian name is Alish (Ah-lish) which was given to her from her namesake; Margaret Suppah, her grandmother who raised her. Her passion is decolonizing education for herself, her children, her community, and always looks for ways to incorporate her culture into her home, classroom and programming.
Jaylyn works for the CTWS as the Community Planner for the Health & Human Services branch advocating and advancing health equity practices and policies. She currently serves on the Oregon Indian Education Association board where she uses her voice to work towards equitable education for all students. She developed the Papalaxsimisha program which incorporates historical trauma, healing, self-identity, cultural awareness, high school readiness, college and career readiness in a curriculum she and two other native teachers developed. Her background includes Cultural Awareness trainer, Traditional Health Worker, youth mentor, historical trauma facilitator, curriculum development and youth program development.
---
Buck Jones
| Since Time Immemorial Fund Grantmaker
Milwaukie
Buck Jones (Cayuse-Umatilla) is the Salmon Marketing Specialist at the Columbia River Intertribal Fish Commission (CRITFC), a technical and advisory arm of the four treaty tribes with treaty fishing rights along the Columbia River: the Yakama, Umatilla, Warm Springs and Nez Perce.
"Our people have been in the Gorge since time immemorial so to our people it has a special meaning. The salmon is sacred to our people. Myself, I actually started as a commercial fisher; I started salmon fishing back home in tributaries and I'd never fished on the Columbia, but I came to the Gorge a little bit in my young adult life and it's since just grown on me. You know, when I used to travel or whatever, I'd be traveling late at night but once I got to the Gorge I was like, 'Oh wow, I'm awake.' So it means a lot to our people, and then working for CRITFC is just added on to that for me. Working for my people and learning some of the stories from the elders has been great."
---
Shilo Tippett, Ph.D.
| Since Time Immemorial Fund Grantmaker
Madras
Dr. Shilo Tippett is an enrolled member of the Confederated Tribes of Warm Springs (Wasco) and of the Sealaska Corporation of Alaska (Tlingit). Dr. Tippett currently works as an integrated psychologist in the Madras Family Care Clinic where she provides care for a number of issues including major depression, post-traumatic stress disorder, anxiety and a range of medical concerns. Her previous work experience includes working as the director and Mental Health Authority for the Behavioral Health Care Center in Warm Springs Oregon and was on staff at the Seattle VAMC for several years. Her passion includes helping children and adults who have endured abuse and oppression of various forms. She has served on advisory committees and conducted research to change the course of future life experiences for indigenous and other underserved individuals.
Shilo was born and raised in Central Oregon and enjoys spending time with her three beautiful children and extended family.
---
Cleora Hill-Scott
| Since Time Immemorial Fund Grantmaker
Seattle
Cleora Hill-Scott (Crow/ Sioux/ Pawnee) is the Executive Director of Potlatch Fund. Cleora, also known by her Apsalooke' name Basssá Itchish (Good Leader), is from the Apsalooke' (Crow) Nation of Montana and comes to Potlatch Fund with an impressive breadth of leadership experience in the Pacific Northwest. She has served with many notable tribal governments and organizations including the Swinomish Indian Tribal Community, Affiliated Tribes of Northwest Indians, Crow Tribal Administration, and Northwest Portland Area Indian Health Board.
---
Tam Lutz, MPH, MHA, CPST
| Since Time Immemorial Fund Grantmaker
Beaverton
Tam Lutz is a Lummi Tribal member with ancestral ties to the Quinault, Nooksack, Skagit, Chinook, Cowlitz, Snoqualmie, Suquamish and Duwamish Tribes. Tam has spent over 25 years working in public health in Indian Country, including over 20 years at the NPAIHB in directing maternal child health programs including chronic disease and motor vehicle injury focused projects, research studies and surveillance. Tam serves as the NW Tribal EpiCenter's Project Director for WEAVE-NW, funded through the CDC's Good Health and Wellness in Indian Country (GHWIC) initiative and "Native Boost: Addressing Barriers to Childhood Immunization through Communication and Education," a CDC funded Tribal public health capacity project.
Tam is an experienced field researcher, a developing epidemiologist, with broad experience in maternal child health at the NPAIHB and at home at her Tribe. She has directed other projects at the NPAIHB including the very successful Native CARS Study, Toddler Obesity and Tooth Decay Prevention Study and the Indian Community Health Profile Project. She has provided leadership in all aspects of program management and has been responsible for communicating with tribes, supervising and mentoring staff, providing broad expertise to the subject areas of the projects, developing collaborations, and communicating and reporting to funders.
Tam, her husband Ed, and their two children and three dogs live in Beaverton, Oregon, where she enjoys cheering from the sideline as she watches her children participate in sports, preparing for and participating in the annual Tribal canoe journeys, and spending time with her large extended family.
---