Tuition Equity for Undocumented Students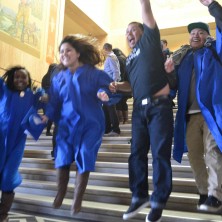 Since our very first round of grants in 1976, MRG has provided sustained funding for organizing in immigrant communities, including Causa Oregon, the Center for Intercultural Organizing, Asian Pacific American Network of Oregon, and Latinos Unidos Siempre. Even as the national dialogue on immigration has remained stuck, in 2013, organizations saw an opening to create tuition equity in Oregon.
What's tuition equity? Graduating seniors from high schools in Oregon were being forced to pay out-of-state tuition if they couldn't confirm their U.S. citizenship. This two-tiered system for tuition was removed after years of organizing by MRG grantees, who brought young undocumented Oregonians to the capitol to explain to legislators the impact of essentially being denied an affordable Oregon college education.
"MRG is an essential part of the progressive movement here and I'm proud to work with them to create a more equitable Oregon." — Peter Buckley, State Representative
Protecting Oregon's Ecosystem
MRG has provided extended support for organizations who use a mix of legal, community education, and organizing strategies to protect the last wild areas in Oregon and advance environmental justice.
Whether it's Klamath-Siskiyou Wildlands Project protecting the forests of Southern Oregon; Crag Law Center working on the ground and and the courtroom to protect Oregon's environment from harmful pesticides and climate change; or Beyond Toxics organizing in Lane County to challenge the rampant and harmful use of pesticides, these forests and ecosystems are still here because of the tenacious work of these and many other MRG grantees.
"MRG Foundation gave us our start and has helped Beyond Toxics grow to become a major player in Oregon's environmental movement. This year we led a grassroots campaign that helped pass the Safe Public Places Act – one of the most proactive statewide pesticide laws in the nation!" — Lisa Arkin, Executive Director, Beyond Toxics
Cultural Preservation & Native Sovereignty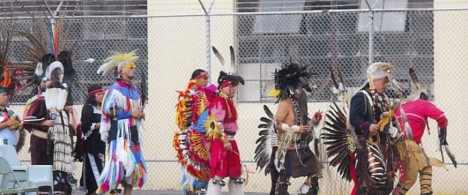 In 1954, the federal government revoked Klamath tribal sovereignty and recognition. To overturn this egregious decision, MRG made a series of grants in the late '70s and early '80s to tribal groups in Chiloquin and Klamath Falls as Klamath Tribe members organized to regain federally recognized sovereignty. And, in 1986, the federal government re-recognized the Klamath Tribe after nearly three decades of organizing.
Funding Native cultural preservation and organizing work continues to be an important part of MRG grantmaking. Recent grants include the Confederated Tribes of the Lower Rogue to continue strengthening the Tututni language; Komemma Cultural Protection Association to preserve the Kalapuya culture; and Lakota Oyate Ki to engage incarcerated Native Americans in traditional cultural and spiritual practices.
"MRG Foundation grantees are on the front line of building a powerful multicultural movement strong enough to create the just society we're all striving for — it is such a privilege to be a part of that process." — Amanda Aguilar-Shank, Associate Director, Rural Organizing Project
Early Funding for Controversial Ideas
Our strategy of providing funding to new and untested ideas has enabled us to be an early funder of once-radical ideas. These issues, many of them once considered un-winnable by politicians and untouchable by funders, are now part of the landscape of Oregon and our country. See MRG's history of seed funding to emerging groups.
"We consider MRG to be our founding funder. We started with no infrastructure, but MRG invested in us and we used the grants to create a strong, immigrant- and refugee-led organization. Today, CIO is a nationally-recognized model for cross-cultural organizing — this would not have been possible without MRG." — Kayse Jama, Founder & Executive Director, Center for Intercultural Organizing
Building Worker Power
By making Oregon the second state to tie minimum wage to inflation through a 2002 ballot measure, protecting rural workers from wage theft in 2012, securing paid sick leave for all Portland workers, and ensuring that day laborers receive fair treatment from employers, MRG's grantees are showing the country what a diverse and powerful workers' rights movement can look like.
MRG's grantees have a strong record of securing major victories for low-income workers across Oregon. Jobs with Justice chapters in Portland, Southern Oregon, Central Oregon have turned out thousands of people for low wage worker struggles. Farmworker advocates like Unete and PCUN have built powerful coalitions where there was once stigma and animosity. And day laborer groups like Voz Workers Rights are an inspiring model for what intersectional economic justice organizing can look like.
"MRG's funding of farm worker and immigrant rights came at a strategic moment that helped develop a strong movement for change. And MRG's continued support builds collective power with far reaching effects benefitting thousands of people." — Ramon Ramirez, President, PCUN
The Path Ahead
Although we can take great pride as an early funder, most of the successes we've seen have been because we've made multiple grants to connected organizations over time. Winning victories takes strong relationships and persistence – not just from communities, but of those of us who are prepared to stand with them as allies.
If what was impossible just ten years ago is commonplace today, what victories might we achieve five, ten, or twenty years from now? Consider making a gift today to help MRG make a just and joyful Oregon a reality.